Partial Gear List
Microphones by RODE, AKG, Sennheiser, Shure, Electro-Voice, Audio Technica, GT, and many more.
Vintage mics by Shure, Amperite, Telefunken, Astatic, Electro-Voice and Western Electric.
40-Tracks of Alesis ADAT XT-20.
Unlimited Tracks on PC-based DAW.
Enough software to exceed your needs.
Over 300 effects plug-ins.
Marantz Stand-alone CD Burner.
Tascam DA30 DAT Deck.
Sony DR220 DAT Deck.
Assortment of modern and vintage mic preamps by Audient, Focusrite and Rupert.
Signal Processing by Lexicon, Digitech, Alesis, Aphex, Ashley, DBX, Bellari and Peavey.
Headphones by Koss, AKG, Sennheiser, Audio Technica and Vic Firth.
Control room monitoring by Alesis, Yamaha and Auratone
DI boxes by Countryman, DOD and Whirlwind and Sampson.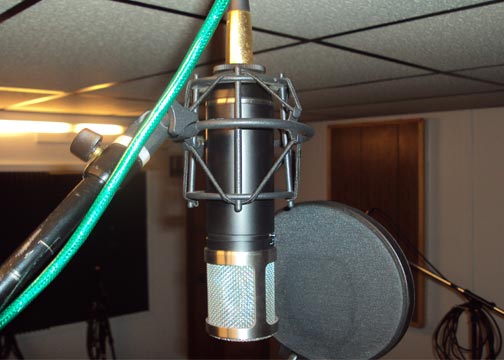 ---
Instruments and Amps
Alesis S4 Quadrasynth.
Vintage Wurlitzer Electric Piano.
Vintage Early '70's Mini-Moog analog synth.
Vintage Korg MonoPoly analog synth.
Wide assortment of software-synths.
Arbiter 5-piece one-lug tuning drum kit.
Cymbals by Sabian.
Several guitars and basses.
Collection of vintage and modern effects pedals by Boss, DOD, Electro-Harmonix, Dunlop, MXR and Morley.
Amps by Peavey, Fender, Mesa Boogie, Danelectro and Yamaha.
Marshall 1960 4x12 Cabinet.
Wide assortment of percussion instruments.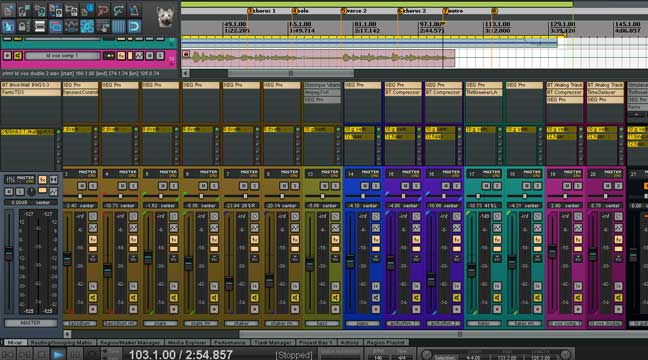 ---
What We Offer In a Nutshell
Full multitrack audio production in many formats, including live band recording, midi-sequencing, loop-based music production, and audio for multimedia.
Full audio mixing fully automated with total recall.
Studio musicians available for hire.
Artist development and world class production.
Jingle production.
Music education.
The best ears in the business. Ask our clients.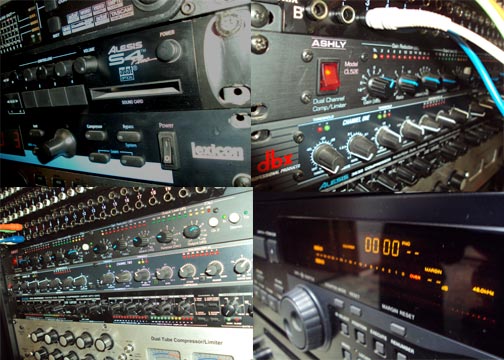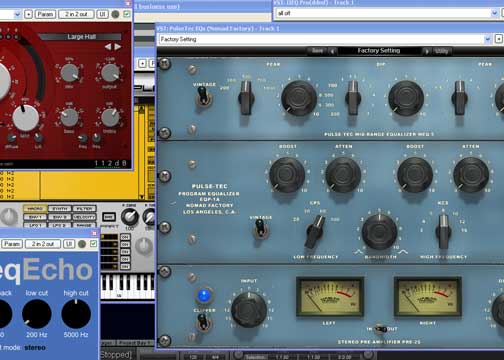 "The gear is cool, but it's the guy at the controls..."